Update 2020-July: I have put out a draft of the quantitative literature review on the definition of friendship.
This project to analyse and support the maintenance of friendship into old age was started in the summer 2019 when long years of general unstructured thinking and observations as well as 6 months of reading culminated in the realisation that – contrary to my original expectation – there still was a gap to be filled.
The key issue – and this is of course something hundreds of researchers, startups and other players are thinking about – is how to do something addressing the terrible loneliness experienced by many elderly, especially as the proportion of them as part of the population is on the rise.
The second connected issue is that while we are always on call and connected, we are not necessarily connected meaningfully and really in a relationship building mode.
The project will try to address these issues investigating how we can help those willing to invest in their friendships to do so. These elements are currently part of the plan
1. The Friendship Survey that generates data on how we interact with our friends (and not just on FB) (launched in October 2019 and stopped in April 2020 due to the change in situation and behaviour caused by the Corona Virus)
2. The Friendship Personality Test : A psychological test designed to see either what your key strengths and habits as a friend are, or vice versa in what way a specific friend is important to you and what you can be grateful for in your friendship with her/him. Complementing this is the Friendship Need Love and Gift Love Assessment. These essentially measure aspects of the Friendship Framework seen below.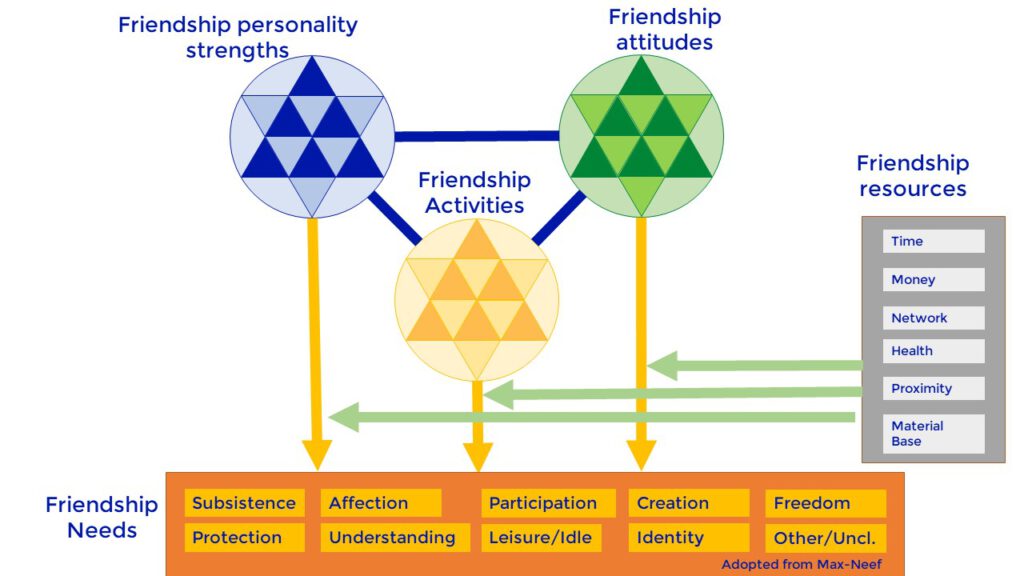 3. The Friendship Inventory – a PDF form to give you an overview how you are doing with your friends. This is still in development mode, but has been published to be of some help.
4. An App Idea to take the insights of the ongoing research project and make it available as a tool to build gratitude for ones friends and habits to keep investing in ones existing friendships. Still work in progress.
This all is the practical part of the ongoing research project that will with some effort, time and luck result hopefully in a book in a few years time.